NetBackups Backup & Disaster Recovery
ELIMINATE DOWNTIME & DATA LOSS. START RECOVERY IN MINUTES!
Backup and recover your data, as well as the critical business processes that manage your data, by spinning up virtual machines or physical servers – locally or in the cloud.
WORRY-FREE BACKUP, DISASTER RECOVERY, AND TESTING
Whether server crash, human error, malicious activity, or natural disaster, a localized or site-wide incident means unanticipated costs or unplanned downtime – both that come with a price! According to Gartner, the average cost of downtime across all industry sectors is $5,600 per minute. That is around $300,000 per hour!
Offsite data backup is simply not enough – data does not operate by itself. To keep your business running, the critical servers and business processes that manage your data must also be recovered. NetBackups Backup & Disaster Recovery (NBDR) is a hybrid cloud disaster recovery solution that helps mitigate the downtime caused by server crashes, ransomware attacks, or natural disasters. IBDR does this through simple and fast backup and restore of files and folders, or full server and virtual machine failover and failback.
With NetBackups Backup & Disaster Recovery, your data is always protected and always available… when you need it.
KEY CAPABILITIES THAT DELIVER BACKUP & DISASTER RECOVERY PROTECTION
BACKUP & RECOVERY LOCALLY
RECOVER/SPIN UP LOCALLY OR IN THE CLOUD
MANAGMENT SIMPLIFIED -RIGHT -SIZED TO YOUR GOALS
DELIVERS CRITICAL SERVER INSURANCE
DEDICATED CLOUD RESOURCES*
Protect physical & virtual machines – VMware®, Hyper-V™, Linux®, Windows®, Active Directory™
Backup files and folders
Backup Images
No sharing – compute & storage dedicated to your critical recovered data/workloads
Centrally deploy, configure, & manage directly from the NetBackups Dashboard
Agentless, native support for VMware and Hyper-V VM discovery and backup policy control
EASY RESTORATIONS – LOCAL OR CLOUD
DRAG AND DROP DR RUNBOOK ORCHESTRATION*
YOUR DATA, YOUR RECOVERY OBJECTIVES
Quickly restore clean versions of files, folders, apps, or full system
Backup data is stored in deduplicated & encrypted manner – maximizing storage
Replicate your data to the NetBackups Cloud for safe-keeping and retention
Specify recovery order, group, and set intervals for VM spin up
Easy to use runbook editor
Automate your disaster recovery playbook
Set backup settings/schedules
Configure recovery network
Industry-leading, boot-ready time for failover. Average: 2 minutes!
Boot Windows and Linux servers or virtual machines in the cloud with secure RDP, VNC, or web VNC access
Lease the appliance with no up-front CapEx. Purchase if desired
Leverage existing data center & resources. Also available as software only (virtual appliance)
TRUE LOCAL DISASTER RECOVERY
UNLIMITED, GUILT-FREE TESTING
Spin up VMs on local appliance for micro-disasters/small crashes
All local data is deduplicated and securely sent to the cloud
No formal declaration needed; test dependencies before a real emergency
No fees for testing; No fees to spin-up on appliance or in the cloud*
Sold as aggregated component subscriptions with 1 TB storage increments – all for a consistent price per month
Right-sized for small or large environments – with sufficient storage and compute capacity for concurrently booted servers
No fees for onboarding or initial training
Regular software updates included
**ALL IN THE CLOUD - NO HARDWARE REQUIRED**
WHAT MAKES NETBACKUPS BACKUP & DISASTER RECOVERY DIFFERENT?
NBDR solutions are sold as aggregated subscriptions for a consistent monthly price
There are three components to the solution: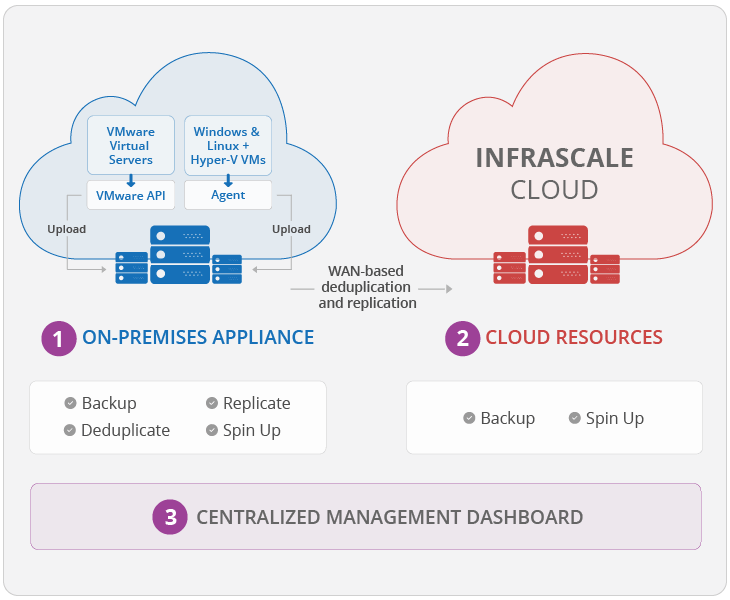 Backup – Locally and Replicated to the Cloud
IBDR backs up to a local on-premises appliance before data is replicated to the cloud
When stored on the primary, data is deduplicated, compressed, and encrypted – on our patented DDFS (deduplication file system)
Only unique (deduplicated) content is replicated to the cloud – also compressed and encrypted with AES 256-bit encryption
In the cloud, the data is encrypted at rest and stored in the same DDFS, synchronized with the primary
You can restore files, folders, full virtual and physical machines from the primary or cloud. Data can be pushed to its original location, new location, or exposed on the appliance as a NAS share.
To recover from a local/micro-disaster, spin up a single server on your primary appliance. With IBDR-Cloud, you may spin up your servers manually or via orchestration with your dedicated cloud resources. At the end of your disaster, failback to your original on-premises server to capture changes to the source.
SPECIFICATIONS OF SUPPORTED BACKUP TARGET